I'm proud to say that I'm a 90s baby! So many great movies, clothing, and songs came out of the 90s and their influence is still prominent today. One of my favorite movies from the 90s is Clueless. It is hands down a classic movie and I can practically recite it word for word. I loved the clothing in the movie and I definitely wanted a closet like Cher's!
Not only was the clothing great but the movie is overflowing with so many quotes that just stick in your mind even today. So, imagine my utter happiness when I'm shopping and I come across this crop top that says "Rollin' with the Homies" I just had to get it without even thinking about it. I'm not even a crop top kind of girl! Luckily it's not ridiculously short. If you haven't seen the movie (hello! where have you been?) then you should watch it immediately and fall in love with it!
I kept this look kinda 90s with brown lips and platform sneakers. I definitely should have put on one of my chokers to make this look totally 90s. I talked about how chokers are here to stay in this post
here
. It's safe to say Clueless will remain a classic and that I'll always be a 90s girl!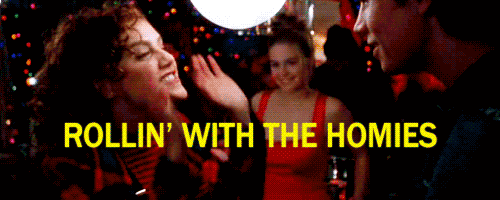 https://giphy.com/gifs/funny-movie-film-4bIXzqSOvdN1S/